Good news: Jul et Mad launches a new perfume!
The French "savoir-faire", an incomparable artistic refinement and the absolute luxury are reunited in a single, exceptional "Haute Parfumerie" house, JUL ET MAD Paris.
Since its launch in 2012, the Art of Perfumery became the scene where a beautiful "Histoire d'Amour" is revealed: the very true story of the two founders, Julien and Madalina.
Reunited in two most exclusive, High-Luxury Collections, "Les Classiques" and "Les WHITE",all JUL ET MAD ParisExtraits de Parfum are composed in collaboration with internationally renowned perfumers employing, exclusively, the purest essential oils and rarest absolutes.
One of the most luxurious offers, original presentation and the diversity of available formats also define and complete this authentic perfume brand, where rarity and costs are no barrier, thus offering the unique experience of a Perfume without Compromise.
The 14th edition of Pitti Fragranze will host, in "avant-première", the launch of the 5th chapter of the duo's magical love story, a new Extrait de Parfum to complete the brand's Classic Collection.
JUL ET MAD Paris is proud to revealthe new exquisite fragrance creation,
composed by
Luca MAFFEI
(Atelier Fragranze Milano) - also the mastermind behind the Award-Winning "Néa" and "Garuda" from the brand's High-Luxury collection "Les WHITE".
The "Red City", Marrakesh, the magnificent former Imperial cityat
the
foothills of the snow-capped Atlas Mountains.
Behind the majestic red walls of the ancient medina withtortuous, fascinating and mysterious streets, a splendid"Ryhad"opens its doors to unveil a hidden, most enchanting and welcoming interior garden… Aninviting heaven, veritable sanctuary, captivating and entrancing the visitors with its hypnotizing orange blossom scent embalming the air and the spirit…
Homage to Julien and Madalina's most cherished secret retreat. This "red paradise" discovered years back, during their honeymoon, has kept intact its magical, never failing to amaze and to mesmerize year after year…
An invitation to discover the couple's own majestic oasis, their very secret source of serenity and happiness.
Head Notes:
Orange, Mandarin, Davana, NeroliMarocco, Cloves
Heart Notes:
Orange Blossom, Rose Damascena, Honey, Almond
Bottom Notes:
Patchouli, Timbersilk, Vanila, Benzoin, Amber, Musk
High-Luxury Silver Collection.
SRP: 320 € / $ 365.00
- 50ml (1.7 FL. OZ.) silver-platedFlacon &7ml (0.24 FL. OZ.) Nomad Spray
The precious nectar is presented in a collectible, hand decorated, silver-plated multi-faceted flacon, crowned with a custom-made bright silver cap impressing by its quality and weight and always accompanied by a made-to-measure white velvet pouch for the further protection of this veritable "jewel".
A stylish hand-made wooden case in dark gray color leather, tastefully engraved with the brand symbol and hand-stitched with silver silk thread for a perfect and elegant finishing hosts the precious bottle. Conceived as a real jewelry case, its luxurious white velvet interior has a perfectly adjusted hold that further emphasizes the beauty of the fragrance.
A special and discreet compartment is dedicated to the silver "signature" Nomad Spray that always and naturally accompanies every perfume flacon. This rechargeable travel spray, sold filled and ready-to-use, not only allows having the favorite perfume on-hand anytime, anywhere; it also contributes to the uniqueness and originality of the presentation, as no other perfume brand proposes such a complete offer.
Luxury "Love Basics" Silver Collection
. SRP: 145 € / $170.00
-
50ml (1.7 FL. OZ.) classical transparent sand-polished & platinum-silver decorated flacon in luxurious white & silver «cloche» box.
Same fragrance, same concentration, a simplified format, the same magnificent heavyweight flacon with its most beautiful, luxurious white and silver packaging: all created in accordance with the luxurious image and high standards of JUL ET MAD Paris.
Pre-Launch: PittiFragranze, Florence, Italy (9-11 September 2016)
OCD: September-October 2016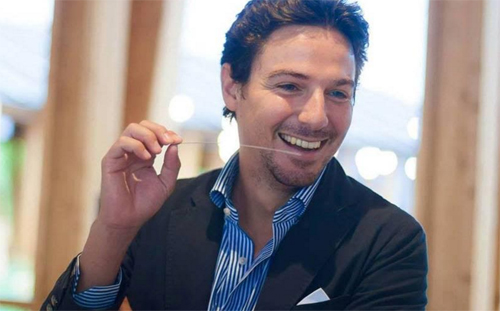 Luca Maffei
is a young italian independent perfumer, born and based in Milan, working for his own company - Atelier Fragranze Milano.
Since childhood he was very close to the world of essences. His first olfactory memory is hi smother's perfume.
Fascinated by the charm of rawmaterials and the mysterious alchemy by which they combine since he entered the first time a perfumer lab, at age of 22 he decided to explore this unique world. He studied perfumery in Grasse with a special mentor, Francoise Marin and hedid his apprenticeship with Vincent Ricord in Epressions Parfumées.
During his young career, Luca already signed more than 50 perfumed creations (Fine Fragrance, Air scent/Candles) for Houbigant Paris, Perris Monte Carlo, Carthusia, Masque Milano, Pineider, Laboratorio Olfattivo.
Two of his creations, Black Pepper &Sandalwood by Acca Kappa and Néa by JUL ET MAD Paris, were awarded in 2015 and respectively 2016 with the prestigious "The Art and Olfaction Awards", Independent Category, in Los Angeles.
He is member of SFP (Société Française des Parfumeurs) since 2014 and the perfumer he admires above all is Edmond Roudnitska as for his legendary creations and his life dedicated to perfume. He said

"a beautiful perfume is the one that leads to a shock" and this is also Luca's greatest ambition.